Description

Break out of the Ice Age with Black Ice CoolTherapy
A revolutionary leap beyond cryotherapy products based on ice or gels, Black Ice CoolTherapy Systems provide all the therapeutic benefits of traditional cold therapy–reduced swelling, drug-free pain relief and more–without dragging along prehistoric problems like timed application, unbearable pain, skin barriers and the ever-present threat of frostbite.
Cold therapy–without the cold
Like the sophisticated cold therapy pumps used in hospitals, Black Ice Modular CoolTherapy Packs deliver regulated cooling at 52°F–a temperature that's comfortable yet very effective for cold therapy–all without batteries, hoses or power cords.
Black Ice vs. Ice/Gels: It's No Contest.
When it comes to safe and effective therapy, ice and gels are just too cold. Using these products for more than 20 minutes at a time can cause vasoconstriction, possibly frostbite and even permanent soft tissue damage. With a regulated 52°F output, Black Ice holds tissue temperature within the optimum cryotherapy range for safe, comfortable and effective therapy. Check out the graph and see the full story.
Back Pain? Cool!
The BTX CoolTherapy Back Wrap is designed to precisely target back pain according to your individual anatomy. Customized pack placement lets you decide where the cooling goes, and adjustable compression gives you control over pressure. The result? Effective relief at a comfortably soothing temperature. Need Hospital-Grade therapy without the wires, hoses and horrible food? Black Ice fills that prescription.
Cool Features Make A Cool Product
There are thousands of cold therapy products out there, and they all have the same old problem–They're just too cold for comfort. In fact, they're so cold you risk frostbite by using them for more than 20 minutes at a time. With a regulated 52°F temperature output, Black Ice can be used for as long as you need it–and that's going to help you recover more quickly.
MCP Modular CoolTherapy Packs
The BTX uses the Black Ice MCP Modular CoolTherapy Pack. Set to produce a temperature output of 52°F, this unique cooling pack can be used with most Black Ice CoolTherapy products–saving you money by allowing you to purchase additional wraps or packs to fit your individual needs.
Adjustable Pack placement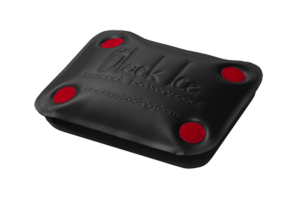 Thanks to a modular design, several Black Ice MCPs can be placed in a variety of positions on the BX Wrap, allowing you to precisely target your pain and swelling.
BX Wrap with adjustable compression
Every person is different, and that means your pain is as individual as you are. The BX Back Wrap is ergonomically designed to offer a wide range of compression adjustment, so you can vary your CoolTherapy pressure to suit your pain level.
Charge, mount, wrap. Cold therapy was never this cool.

No skin barriers, no timers, no worries—Black Ice is as simple as it is cool. Just follow these three easy steps and begin your recovery using effective and comfortable CoolTherapy.
charge
Black Ice gives you three charging options*:
freezer: 1.5 hr.
refrigerator: 4 hr.
ice water: 1 hr.
Store your packs in the freezer or fridge
for instant access to CoolTherapy.
*charge times may vary slightly
keep packs flat while charging
mount
Use the built-in hook-and-loop fasteners to mount your Modular Cooling Packs to the BTX CoolTherapy Wrap. Packs may be placed in a variety of positions.
wrap
Place wrap so packs contact area of pain. Close with hook-and-loop tab. Vary compression by adjusting compression tabs. Swap packs when needed.
Care and storage: For maximum lifespan, store your Black Ice cooling packs year-round in the refrigerator or freezer. Your packs will last longer, and they will always be ready the moment you need them. Clean your cooling packs after each use by washing them with a grease-cutting dishwashing liquid. Towel or air dry. Hand or machine wash all wraps in cold water. Air dry—Do not place in a dryer.