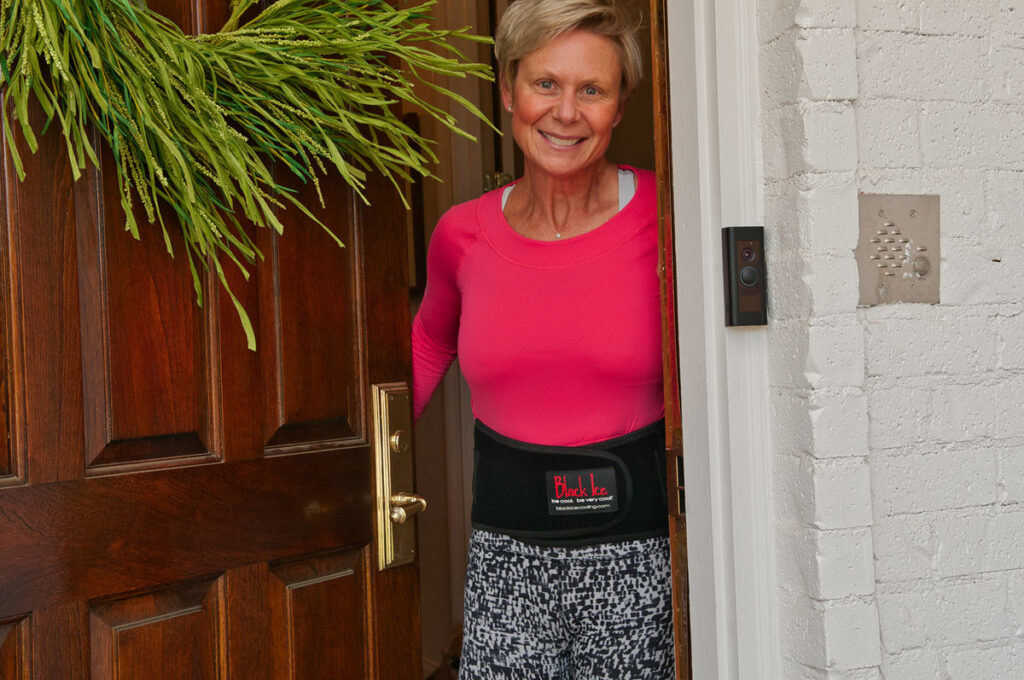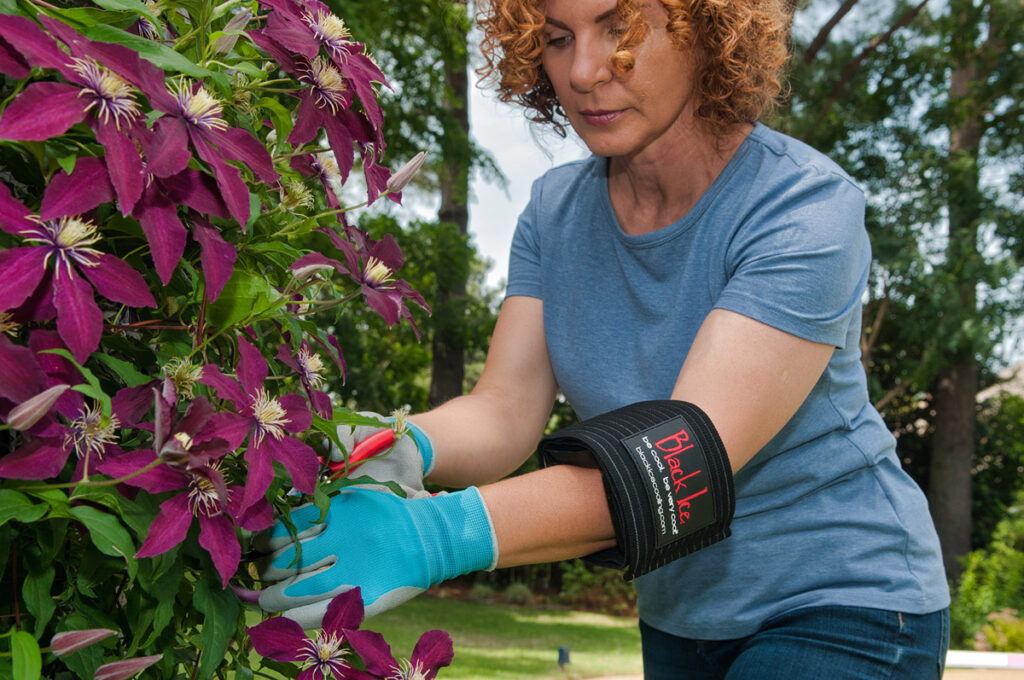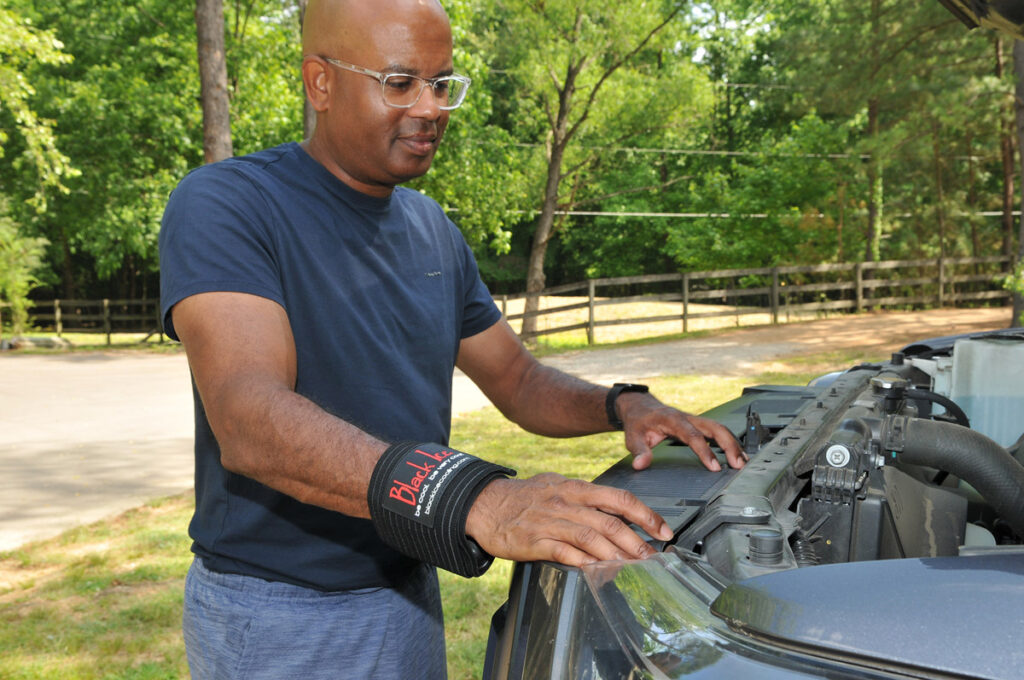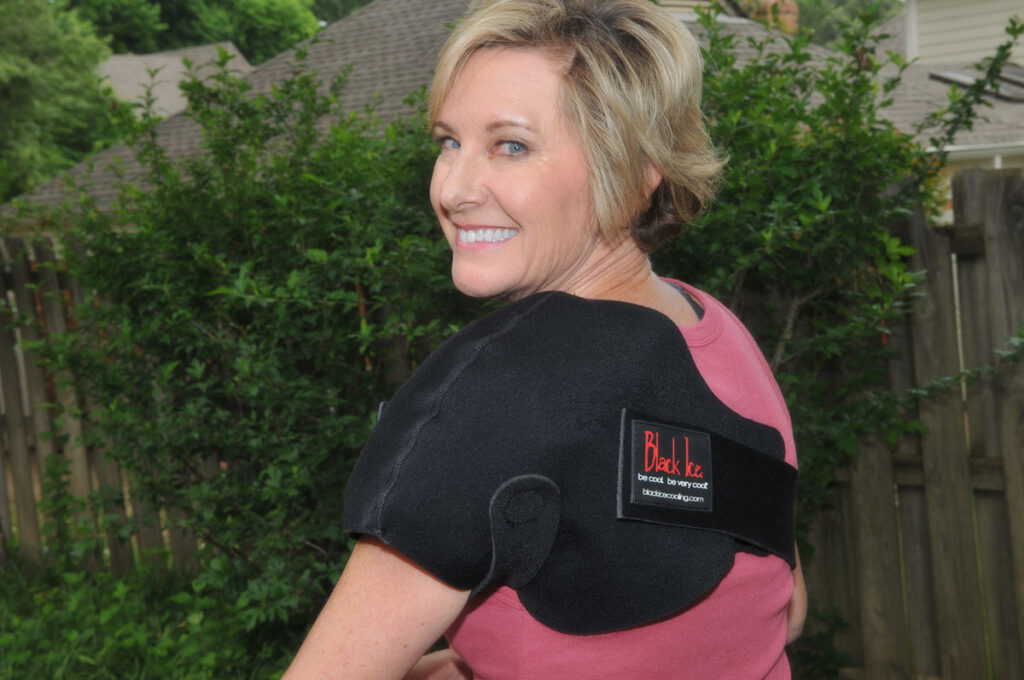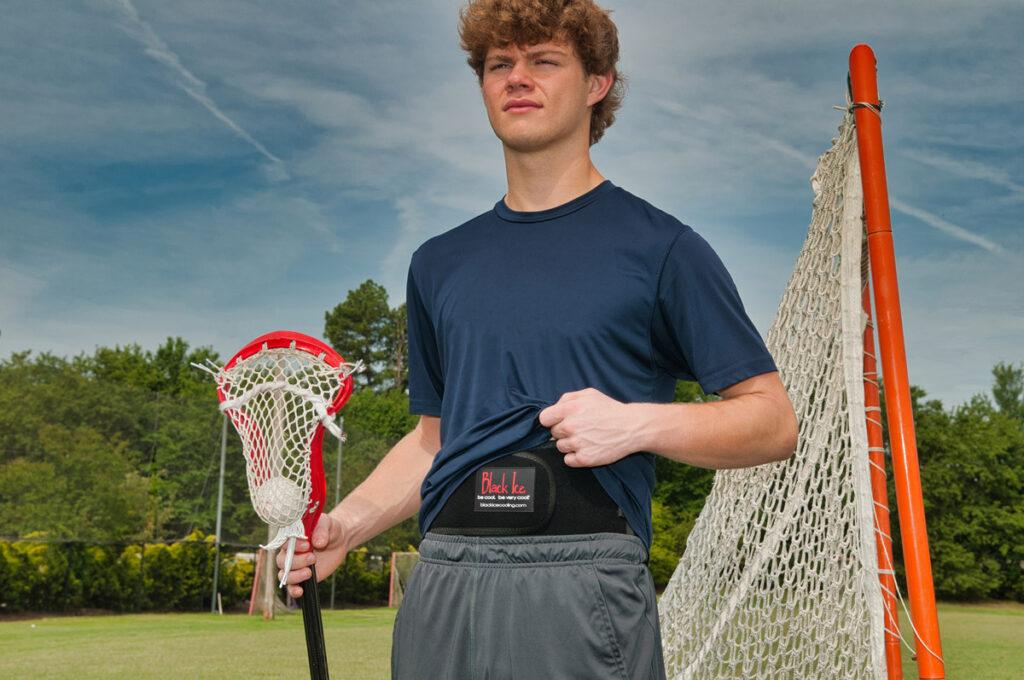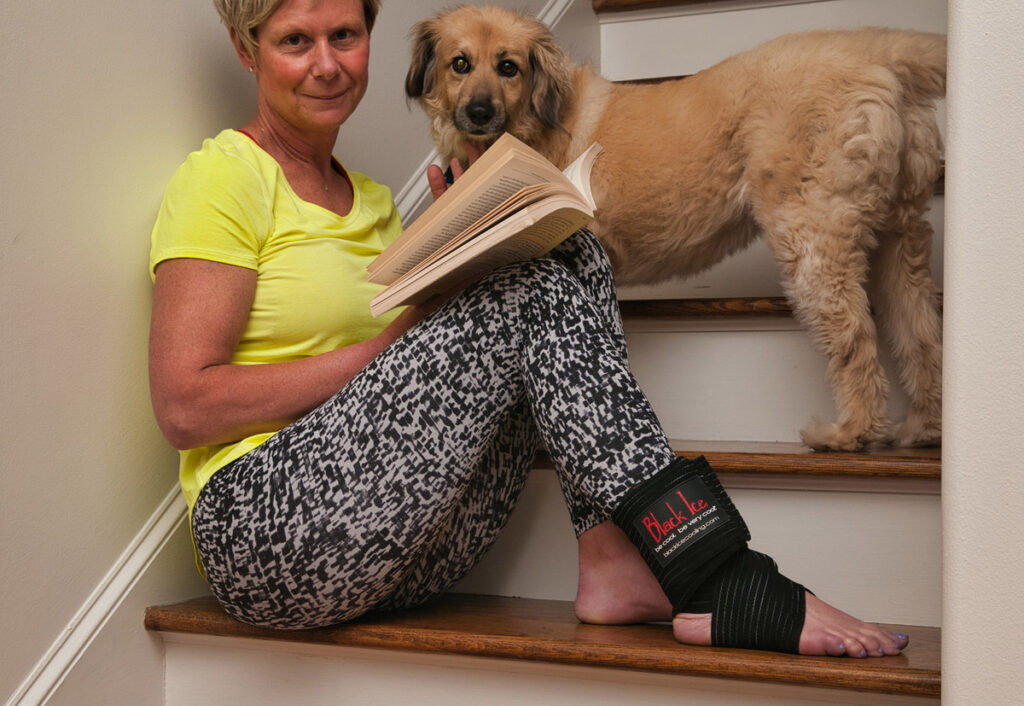 CoolTherapy
Karen L.
According to the National Multiple Sclerosis Society, an elevated temperature can impair the ability of a demyelinated nerve to conduct electrical impulses.  Heat can make many people with multiple sclerosis (MS) experience temporary worsening of their symptoms.  The impact that heat intolerance has had on my life was profound.  I went from an active lifestyle and spending time with my grandkids outdoors in the summer to hiding away in an air conditioned house for the summer months to avoid balance and sensory issues with my MS.  My whole lifestyle changed and not for the better.  I ordered Black Ice after doing some research on personal cooling devices on the internet.  To say I am happy with the product would be an understatement.  The first time I wore the "Cool Collar",  I was able to play with my granddaughter at the park in 80 degree weather for most of the afternoon with no loss of balance or strength in my legs.  I've been using the collar for four days now and am amazed at how well it works and the freedom it affords me in warm weather.  I live in Canada and the customer service was 5 stars. No hidden costs and very minimal import fees. I highly recommend this product.  I've been motivated to give bad reviews in the past to companies who don't stand behind their products and treat their customers terribly – I am happy to give these guys a glowing review because their service is just that good.
Cynthia Z. – It's official – I am addicted!
For years, I've been advised to ICE, ICE, ICE…but I am always cold, so the thought of icing an injury certainly wasn't appealing and I have ignored that advice all my life. Until now… a few months ago I purchased the level III neck wrap and gel packs. After the first use – I was hooked. Then I decided that I wanted the small packs for small injuries…now I want to add the back wrap…and order Christmas gifts for my friends and family!! I have also printed out your web information and am passing it out to all my P. T. friends, all my triathlete friends, all my friends that run, the local medical society, and to my friends that own bike shops!! I am also giving Black Ice to all new mothers!
On October 1st, I had an accident and suffered a shattered pelvis and broken hip. After a total hip replacement, my Black Ice gel packs and I have been inseparable! In fact, as I write this, a Black Ice pack is on my injured hip following a therapy session.
Thanks so much for your assistance.
___
Jonathan L. – I've been using Black Ice on my knee for about a month now and I'm getting great results. A month ago I couldn't bear weight on my right knee without experiencing a considerable amount of pain. I've had knee sprains over the years and general knee soreness from playing tennis. I had been using ice bags, gel packs, wraps, etc. but wasn't getting much improvement. Ice bags were messy and gel packs just didn't stay cold for long enough. I had a friend tell me about Black Ice who had success with his tennis elbow, so I gave Black Ice a try and I couldn't be more pleased with the results. It's good to be back playing tennis again at full strength. I really like that the packs are modular so you've always got another set of cold packs in the freezer ready when the ones you're using have discharged. It's also nice that the product is made here in the US as well when so many manufacturers are outsourcing jobs to other countries. Thanks for making a quality product that really works.
___
Russ J. – My name is Russ and I have been competing in U.S.T.A. League Tennis for about 25 years. Now at the age of 51 I've developed a severe case of cronic tennis elbow. I have had several shots and tried various types of braces and pads and just kept playing through the pain until I began using BLACK ICE CoolTherapy. Now I am back to playing tennis 5 and 6 days a week with absolutly no pain or swelling. I continue to use Black Ice each night as a prevenative maintainance program. Game, Set, & Match – BLACK ICE
___
Rob W. – Thank you for the shoulder wrap. I use it everyday. I need a shoulder replacement, and the doctor told me to quit tennis. Black Ice is the only thing that helps the pain.
___
Ray B. – I highly recommend Black Ice. I had golfer's elbow (caused by tennis and boxing workouts) for 7 months and tried everything including Cortisone shots, regular ice, heat, and physical therapy. I started using Black Ice constantly (even while sleeping). In 2 months the pain was completely gone. It has now been 1 month and counting, and I am playing tennis regularly and doing light weights and I am still pain free. I also love the modular design and multiple packs which make it so easy to use.
___
Si J. – I recently used the 80″ wrap-knee CoolTherapy System Black Ice product to relieve pain associated with my severe bilateral patellar tendinitis. The product was able to cool my knees circumferentially over a very large area for an extended period of time providing much appreciated pain relief. I found the application strap easily adjustable to fit my legs at the knees or slightly above or below the knees depending on where I felt the pain was most prevalent.
__
Patricia B. – "These things are a miracle! . . . After applying the Black Ice, in about 10 minutes I am comfortable enough to get to sleep. I have been able to reduce the (pain) meds to about half of what I needed without using Black Ice . . . My pain level reduces from about 8 down to level 2. . . ."
___
Marla G. – "What I love about Black Ice is that during the first weeks of my injury I was able reduce the swelling so quickly because I could keep the Black Ice on for longer periods of time while also using the brace for support. It absolutely allowed me to get back on the court quicker. I like the ease and convenience also. While my injury is healing, I still use it after each time I exercise for preventative measures. I just wrap up in Black Ice for the car ride home."
___
Shannon M. – "The best thing about Black Ice is the ability to ice your injury for long periods of time without freezer burn. When I had tennis elbow last year, I couldn't even pick up a teacup. I had to quit tennis. At the very worst pain, I decided to try Black Ice. Since it didn't hurt to keep it iced, I was able to keep it there for several hours. I noticed a difference right away. After three days, of Black Icing, the pain was bearable. The best part was I was able to start playing tennis again. . . ."
___
Fred B. speaking about his wife – "It is amazing, but we are convinced that these Black Ice units have allowed her knees to heal and that has enabled her to walk a little more each day. Her doctor says the extra walking is strengthening her knee muscles and lessening her pain. I am so pleased to see her up and about more. Thank you for this great idea/ invention!"
___
Kathy B. (ACL surgery) – "The first thing you notice about Black Ice? No ice burn! It was so comfortable to use that I could keep the Black Ice on my knee for hours at a time by just rotating out cooling packs. And no drippy ice bags! I know it helped speed my recovery. I still use the packs if my knee aches or swells. . . ."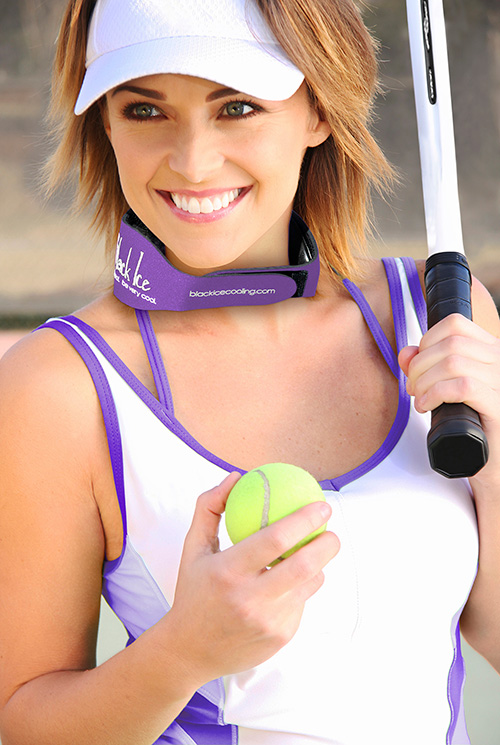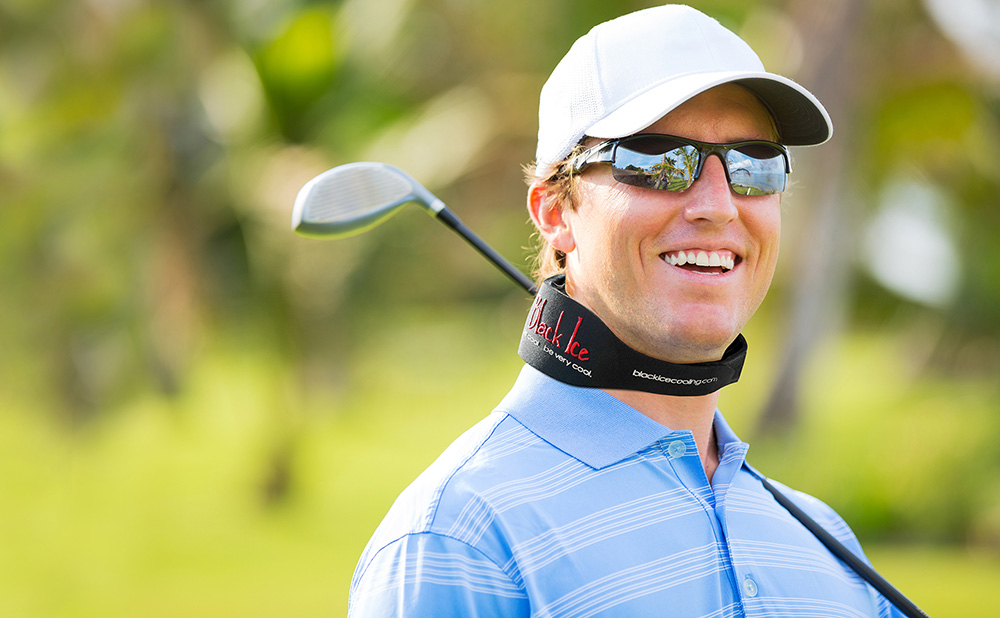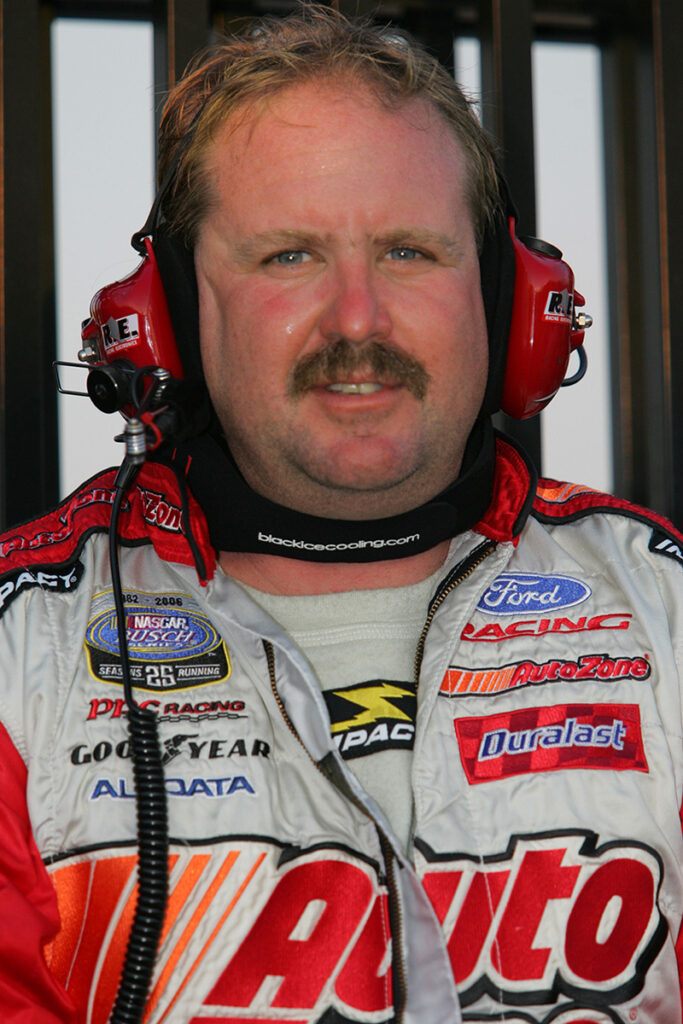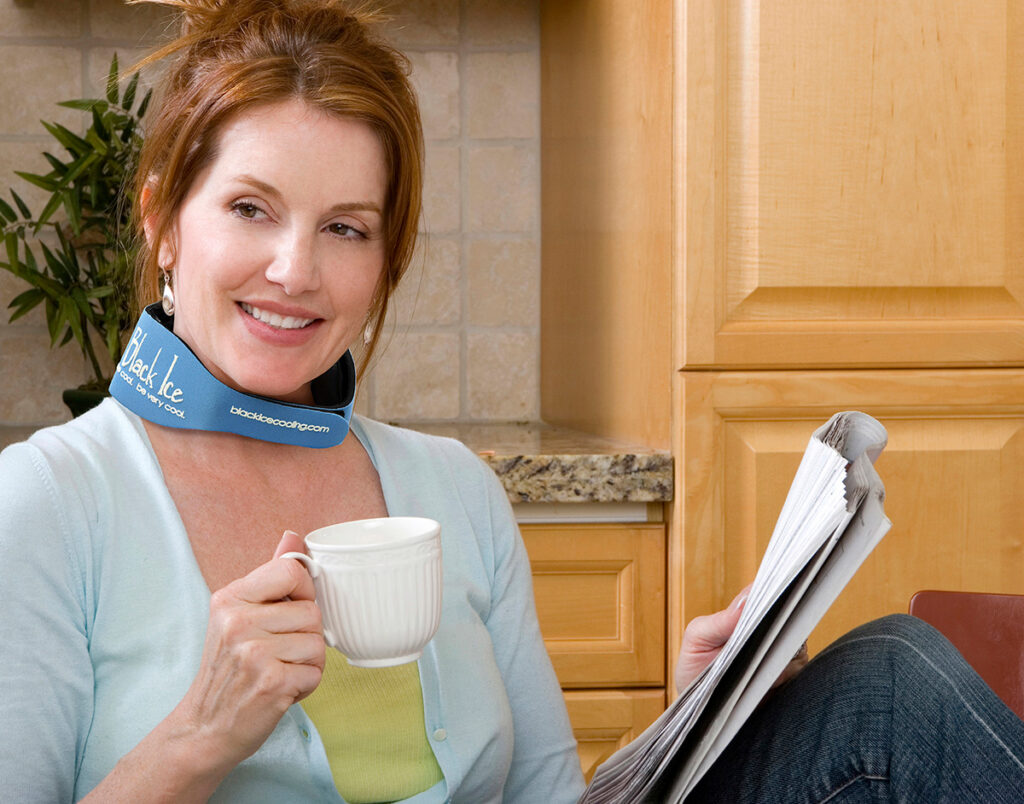 Personal Cooling

Skip A. – Wore one of these while flying the air show at Gary, IN. 105 degrees on the ramp, 95% humidity and I did not break a sweat, through my whole performance of 45 minutes. This thing is awesome and performs exactly as presented on the web page.
___
Lori S. – My name is Lori and I live in Las Vegas, NV. I was diagnosed with MS in 2005. Seeing how the number one thing the doctor said to avoid was heat I immediately searched for a way to stay cool. Trying to stay cool outside in Las Vegas is NOT easy! I tried the little cloth wraps with gel beads you soak in water but they got everything wet and never lasted more than 10-15 minutes. I tried the electronic neck collars and they were neat to look at and very high tech in concept–but they didn't work and they were very clunky around the neck. I tried the ice pack neck wraps–they did work but I had no way to always have frozen packs available at work. I even tried the spray bottles with the fan on them–not good! About 4 years ago my husband found the Black Ice system. Wow–this was what I was looking for. They keep me cool even in the Las Vegas heat for up to 30 minutes. The best part however is that the gel they use inside the ice packs can be re-activated by simply soaking them in a cooler with ice water! They do not have to be frozen! So I carry the cooler with ice water and bring 2 Black Ice wraps with me at all times! I simply switch out the wraps whenever they stop cooling. I put the warm gel pack into the ice water cooler and within 10 minutes they are ready to go again. I have used the Black Ice system now nearly everyday to help successfully minimize my MS symptoms. Black Ice has truly been the best product out there–and trust me–I have tried them all!
___
I am a 40 year veteran in the Investment Casting Industry. Over these decades I've seen, and tried it all. From salt tablets, sweat bands, an expensive pedestal fan per person, water soaked undershirts, electrolyte drinks to frozen vests. Last summer I began looking for personal cooling devices for my employees working in the worst conditions: the foundry and those performing maintenance. I stumbled on your website and upon reading the descriptive information it seemed that your product addressed the shortcomings of other personal cooling methods, was far more convenient, but more important it really made sense to me to cool the area of the carotid arteries–through which all of our blood flows approximately every minute and continues through the rest of the body!

Being a skeptical shopper I searched for similar products and found one similar product that was of the same principle, but obviously not of the same design and quality (I reported this apparent "knock-off to your company). I then ordered three "kits" for trial, with results and feedback being nothing short of "remarkable." Within a couple of days I ordered twenty more kits for the above mentioned employees and delivered them personally pre-frozen (with great pleasure) on one of the worst days in August of 2011. I even gave a kit each to two outside electrical contractors who were drenched in sweat working in our compressor room.

Fast forward to early this summer. I found myself walking around other areas in the shop and noticing once again, TOO MANY fans! Fans are expensive, add to the ambient noise level, use electricity and generate HEAT! Then, while in an air conditioned department, I noticed a female employee sweating and asked if she was alright–she was–she just had a hot flash. So I visited your website and imagine my surprise to find many new applications including hot flashes. Needless to say I just ordered thirty more "level II" kits which will be distributed free to all interested employees.

This is a simple yet revolutionary product and as a fellow American manufacturer, I wish you great success with it.

Gregory K.
President
InveCast Corporation

P.S. One of my family members is a three year old Boxer/Lab named Lucy. She doesn't happen to have the sense to slow down when it's hot, so when I noticed her panting excessively on our tiled kitchen floor . . . well let's just say here's another application for your website. I know she appreciated it because for once didn't try to get this "foreign" thing off her neck.
___
Bryan C. – Thank you – and thanks for the outstanding customer service.
FYI… I use these for motorcycle riding in the hot Florida sun. They work great – not sure if your company attends events like Daytona Florida "biketoberfest" (in October) or the larger "bike week" in the spring. Could sell a ton of these.
Thanks again.
___
Alan Z. (motorcycle rider) – Whenever we go anywhere that's it's going to be hot, we bring your coolers around, and it's great fun to place them on folks' necks, and get the audible "ahhhhhhhh"
___
Sara W. – Hi There, I just posted a link to your website…raving about Black Ice. I love it! Thank you 🙂
http://www.facebook.com/SarahWoodPhotography.Melbourne
___
John from the UK – ". . . love the product. I got heat stroke and was declared dead twice in hospital . . . this item is a real life saver . . . There is nothing on the market here that comes even close to what you sell." (Please note Black Ice was not used to revive John–He has used Black Ice since his ordeal)
___
Maggie in Wisconsin – "I just had to write and tell you how fantastic your product is. I work at a renaissance faire and wearing Black Ice transformed a day that would have been miserable into one that was enjoyable. Everyone that tried it on made the same sound of extreme appreciation :). I'm ordering another set!"
___
Laura Z. – "Love your product. Husband trains dogs for military contracts, and in the Virginia heat during summertime, and in a bite suit, it's excruciating. Your product has made it more bearable for the guys working to protect this country and the job that needs to get done. Thank You!!!"
___
Steve M. – "I was diagnosed as having MS (Multiple Sclerosis) 4 years ago, and every summer I struggle with my symptoms in the heat.
I just wanted you to know I was able to push mow the entire back yard with the help of my Black Ice Cooling Collar. After, I was feeling so good the wife asked if I could cut down the bush up front which I was happy to do. . . .
It was amazing how you can feel the cool but it is not cold. I am sold and just wanted to thank you for producing a product that truly works and is helping people such as my self deal with the heat. THANK YOU."
___
Glenda, NASCAR fan – "My husband used it for the first time yesterday, worked really well. He changed it after about hour and half (instead of the usual 20 minutes with the other type). We're cool!"
___
Donna H. – "I just placed an order. I heard about you from my best friend who lives in Florida. She said it is a wonderful system."
___
Andy Wise – "3 On Your Side" Investigative reporter for WREG Channel 3 in Memphis, TN- "Incredible personal cooling system that STAYS cool."
___
Mel Clarke, member of the GBR Paralympic Archery Team and Bronze Medalist at the 2008 Beijing Paralympics (and now picked for the 2012 UK team! Congratulations, Mel!) – "Your collars were FANTASTIC! . . . The collars worked to keep me cool, well and train to the best of my ability – so much so that I managed to shoot some of the highest scores I have over the past couple of years, and in fact win a Paralympic Bronze medal, and equal the Paralympic record in doing so." Read Mel's incredible story here:
http://www.myhandicap.com/int-melclarke0.html
2012 update: Congratulations, Mel! Mel won a silver medal in the 2012
Paralympics in London! Here's what Mel had to say about Black Ice:
"I would also like to say another HUGE thank you for all your support and help in me winning my medal – the cool collars I have used in my training and competitions really did the job!"
___
Jocelyn Y. – "I have Multiple Sclerosis and the heat bothers me tremendously. I bought this (Black Ice) because I was hoping it would last longer than the numerous other cooling products I had previously purchased. This product is awesome."
___
Judy C. – "I carry my Black Ice with me every day, everywhere, since my hot flashes pop up when you least expect it . . . When I start to feel a hot flash coming on, I quickly put the Black Ice on my neck, before I start to burn up and perspire. The Black Ice actually cuts the rise of temperature, before it gets so unbearable. I love that part of it, so I don't get to the point of my clothes being all wet with sweat, which is terribly uncomfortable . . . I can't tell you how happy I am with this product. I am telling everyone about it."
___
Jane G. – "I cannot tell you how much I have been enjoying your product for the last month! . . . I have suffered from terrible hot flashes for the last three years and have not been able to find much relief other than fans. I finally found your product on the internet and it has made a huge difference in my comfort level. It is comfortably cool, yet not painful like ice cubes . . . I have already recommended your product to several people."
___
Rob Somerville – Pro staff member for BASS PRO SHOPS – "To me, my Black Ice is like an American Express card during the 'dog days' of summer . . . I won't leave home without it!"
___
Jileen M. – Certified aerobics instructor – "I first tried Black Ice during my treadmill workout. It was amazing! Now that it's available, I will be recommending it to all of my aerobics students."
___
Richard W. – "I spend most of my day out in the hot summer sun. Black Ice gives me incredible relief that no other products are able to provide."
___
Regina B. – USTA League tennis captain – "I used Black Ice this past summer. I just swapped the two (packs) out as the tournament match proceeded. Never felt the 95 degree heat . . . It was very effective."
___
Bill B. – "I tried Black Ice while cutting the lawn on a tractor in about 88 degree heat. The Black Ice made the temperature feel as if it was 10 degrees cooler. It was very comfortable."
___
Ron W. – "I tried Black Ice on my regular two mile walk/ jog and cut two minutes off my usual time. When I finished, my energy level was higher than normal, and I felt as though another mile would not have been a problem."
___
Jeff F. – Motorcycle racing mechanic – "I tried Black Ice on a hot summer day at Road Atlanta. Let me tell you, that stuff actually works! It felt cool and comfortable-not too cold like ice. I bet racing fans are going to love it."
___
Thor W. – "Today the heat index is 105-110 degrees and I have been using your product for the last 6 hours on and off and needless to say I am impressed. This was my last attempt at cooling myself off with anything other than a washrag soaked in ice water . . . now I don't have to get quite as wet to stay so cool-so very cool."
___
Peri T. – ". . . Your neck product is great . . . I loaned my Black Ice to a friend so she could try it and now there is a waiting list for others who want to try it. I also wear my Black Ice when I'm horseback riding."
___
Joe S. MD – "I wrote about your Cool Collar here: http://www.bookofjoe.com/2007/07/black-ice-cool-.html then ordered one, which I tried last evening in very hot, humid Charlottesville, Virginia. Superb. I will recommend it to everyone I know . . . one thing I didn't mention that I admit surprised me is how comfortable the thing is: I must say I thought it would be rather unpleasant to use but I didn't even know I had it on. . . ."
___
Toni A. – "I have MS and wanted to tell you I love your product and have recommended it to our MS group."
___
Steve C. – "I received my order and (we) tried it out that day, while driving around in the Florida heat without air conditioning. Worked way better than I imagined it would. It was over 90 degrees, and my wife was almost thinking that she needed a sweater on. . . ."
___
John O. – "I thought I'd let you know-My nephew is in Iraq. I sent him your Black Ice System. He says it works great. I'm happy I went ahead and sent it to him. Great product. Thanks again."
___
Tommy A. – ". . . I have been using your Black Ice while fishing in all this heat and humidity. It is really doing a great job for me. Best part is that it rejuvenates so fast. I just drop it in my cooler and it is ready to go again by time I get to my next spot. Much better than any other product like it that I have ever used. Black Ice makes the good fishing days of 90 degrees much easier."
___
Linda H. – "I've purchased from you before & LOVE your product. I am so pleased to see you offering (the UltraCooler) this year. Thanks so much!"
___
Jocelyne H. – "I bought a Black Ice system for myself and love it. I have MS, so when I heat up I often don't do so well. I wear it while doing housework or just whenever I'm feeling a bit off. I should have ordered one a long time ago."
___
Jason S. – "First I want to start out saying that this product is exactly what you say it is, and that it still surprises you. It is that good. I have used it for several outdoor sporting events and have found that I have enjoyed them so much more because of Black Ice. Normally I just start to get over heated etc., etc. I like it so much in fact I keep trying to push this on all my friends as well."
___
Bobby B. – "I own your Black Ice neck band and love it!"