Description
Break out of the Ice Age with Black Ice CoolTherapy
A revolutionary leap beyond cryotherapy products based on ice or gels, Black Ice CoolTherapy Systems provide all the therapeutic benefits of traditional cold therapy—reduced swelling, drug-free pain relief and more—without dragging along prehistoric problems like timed application, unbearable pain, skin barriers and the ever-present threat of frost bite.
Cold therapy—without the cold
Don't you hate ice burn? With an output of 32°F, ice and frozen gels are just too painful to use on an injury. Like the sophisticated cold therapy pumps used in hospitals, Black Ice CoolTherapy Packs deliver regulated cooling at 52°F—a temperature that's effective for cold therapy, yet still comfortable enough to apply directly to your skin.
Black Ice vs. Ice/Gels: It's No Contest.
When it comes to safe and effective therapy, ice and gels are just too cold. Using these products for more than 20 minutes at a time can cause vasoconstriction, possibly frostbite and even permanent soft tissue damage. With a regulated 52°F output, Black Ice holds tissue temperature within the optimum cryotherapy range for safe, comfortable and effective therapy. Check out the graph and see the full story.
Bumps? Bruises? Burns? Cool!
The UTX is a hand-held CoolTherapy System for bumps, bruises, stings, insect bites and minor burns. With its lightweight and compact design, it's also perfect for soothing irritated skin after cosmetic surgery or even for taking the edge off a toothache.
Cool Features Make a Cool Product
There are thousands of cold therapy products, and they all have the same old problem—They're just too cold for comfort. In fact, they're so cold you risk frost bite by using them for more than 20 minutes at a time. With a regulated 52°F temperature output, Black Ice can be used continuously for as long as you need it—and that's going to help you recover more quickly.
Modular CoolTherapy Pack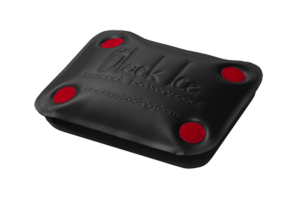 The UTX uses the Black Ice MCP (Modular CoolTherapy Pack). This specially designed cooling pack can be used with most Black Ice CoolTherapy products—saving you money by allowing you to purchase additional wraps or packs to fit your individual needs.
Simple and effective
The UTX is designed to provide quick CoolTherapy to areas that don't lend themselves to wraps. With an effective hand-held design, it takes no time to place a CoolTherapy Pack just where you need it.
Instant relief is always at the ready
Whether it's a bump on the head, a bug bite or sting, a minor burn or a toothache, the UTX can help soothe pain and swelling. Store your MCP cooling packs in the freezer or refrigerator, and you'll always be prepared for those little boo boos, anytime—night or day.
Charge, mount, apply. Cold therapy was never this cool.
No skin barriers, no timers, no worries—Black Ice is as simple as it is cool. Just follow these three easy steps and begin your recovery using effective and comfortable CoolTherapy.
charge
Black Ice gives you three charging options*:
freezer: 1.5 hr.
refrigerator: 4 hr.
ice water: 1 hr.
Store your packs in the freezer or fridge for instant access to CoolTherapy.
*charge times may vary slightly
keep packs flat while charging
mount
Use the built-in hook-and-loop fasteners to mount your Modular Cooling Pack to the CoolTherapy Pad.
apply
Simply place the UTX over the injury site, being sure the cooling pack directly contacts injured area. Apply additional pressure as desired. Swap packs when needed.